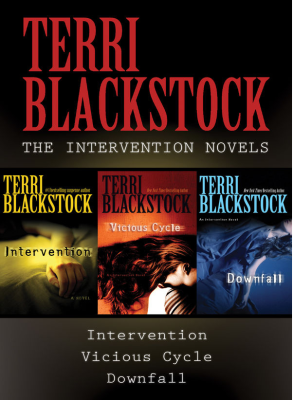 Intervention, Vicious Cycle, Downfall - All three books in the series combined in one ebook!
About the Book
Enjoy New York Times bestselling author Terri Blackstock's Intervention novels as an e-book collection!
Publisher's Weekly: "Prolific suspense author Blackstock (Double Minds) begins with every parent's nightmare: a drug-addicted teenage daughter is dragged to a rehab facility. When the interventionist is found dead and the teen is missing, mother Barbara Covington tries to find her daughter before police can arrest the girl for murder. Short chapters and terse dialogue propel the fast-paced action … the mother-daughter relationship strikes true emotional notes; the redemptive arc of evangelical Christian fiction is natural and resonant in a story of addiction. Blackstock's many fans will be pleased, and this story will also speak to families dealing with addicted children."
Intervention
Barbara Covington has one more chance to save her daughter from a devastating addiction: staging an intervention. But when eighteen-year-old Emily disappears on the way to drug treatment—and her interventionist is found dead at the airport where she was last seen—Barbara enters her darkest nightmare of all.
Vicious Cycle
To protect her newborn baby . . . Jordan has to abandon her. A sequel to Intervention, this latest novel of suspense and family loyalty by best-selling author Terri Blackstock offers a harrowing look at drug addiction, human trafficking, and the choices that can change lives forever.
Downfall
Despite Emily Covington's sobriety, she can't escape her past. Her years of active drug addiction have made her the scapegoat for everything, including a murder. Now she has to identify the real killer to clear her name and protect her family. From the explosive first pages, Terri Blackstock rockets the suspense level to new heights in Downfall, the third book in the best-selling, award-winning Intervention Series.
If you have a fried or loved one who needs help, see Terri's page, Hope for Families of Addicts.
Other Books in "Intervention Series"
Disclosure of Material Connection: Some of the links in the page above are "affiliate links." This means if you click on the link and purchase the item, I will receive an affiliate commission. I am disclosing this in accordance with the Federal Trade Commission's
16 CFR, Part 255
: "Guides Concerning the Use of Endorsements and Testimonials in Advertising."