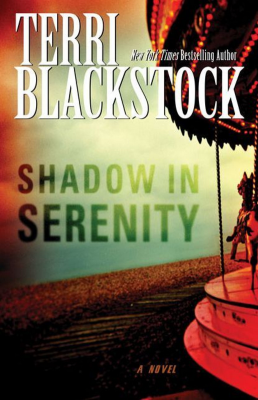 About the Book
Thanks to my Facebook readers who helped me choose the title for this book!
Carny Sullivan knows a con artist when she sees one, and she's seen plenty, since she used to be one. But Logan Brisco is the smoothest fraud Serenity, Texas has ever seen.
From his Italian shoes to his movie-star smile, he has them snowed. Carny's the only one in town who has his number, and if it's the last thing she ever does, she's going to expose him.
But is she really a match for him?
Christian Retailing Magazine says this about Shadow in Serenity:
Handsome con-artist Logan Brisco breezes into the aptly named town of Serenity one day with an attractive proposal: If the residents invest with him, he will build an amusement park that will bring prosperity to the economically struggling area.
Within weeks, the slick salesman has accumulated a sizeable wad of money and is ready to skip town. But someone stands in his way: Carny Sullivan, a bold, fiery widow who instinctively distrusts Logan. Will Carny be able to protect the people she loves—and her heart—from Logan's scheme?
Previously released as a general-market romance and rewritten (and retitled) when the novelist became a Christian, Shadow in Serenity (Zondervan, p, $14.99, ISBN: 9780310332312) from New York Times bestselling author Terri Blackstock won't disappoint. It features page-turning suspense, believable characters, a straightforward but non-preachy Christian message of redemption, and just enough romance to satisfy without being sappy. Blackstock is a masterful writer; highly recommend this excellent title to fiction fans. —Christy Pitney
FBI guide to Common Fraud Schemes
Disclosure of Material Connection: Some of the links in the page above are "affiliate links." This means if you click on the link and purchase the item, I will receive an affiliate commission. I am disclosing this in accordance with the Federal Trade Commission's
16 CFR, Part 255
: "Guides Concerning the Use of Endorsements and Testimonials in Advertising."